In mid-June Workers Confluence Fund grantees CTUL and Awood Center, along with other grassroots groups and many union allies, staged a powerful Week of Action to shine a light on the interconnected nature of the challenges our communities face. The Week of Action included a press conference at City Hall, several nonviolent direct actions, a documentary film screening, and 40+ hours of workshops presented in English, Spanish, and Somali.
Together the Week of Action's 100+ participants learned how race, class, and gender inequity show up in our workplaces, civic institutions, and our own communities. Together we drew inspiration from historical and modern examples of successful movements for social change, focusing on those led by women, immigrants, and people of color. And together we publicly called on electeds and business leaders to come to the table with low-income people so we can work together on creating real, lasting solutions.
Highlights from the week include:
An Awood rally outside an Amazon warehouse where Muslim workers called out ongoing health and safety issues and criticized the company for not allowing them time off to celebrate Eid al-Fitr, which marks the end of the holy month of Ramadan
A CTUL construction workers' march through downtown Minneapolis which stopped at the building sites of several local real estate developers and called on them to join the Building Dignity and Respect program, a worker-driven approach to ending wage theft and labor trafficking in the construction industry
A press conference at which the Minneapolis mayor and the majority of the City Council came out in support of establishing a Labor Standards Board, a form of co-governance that has led to higher wages and safer conditions for workers in New York, Colorado, Nevada, and elsewhere.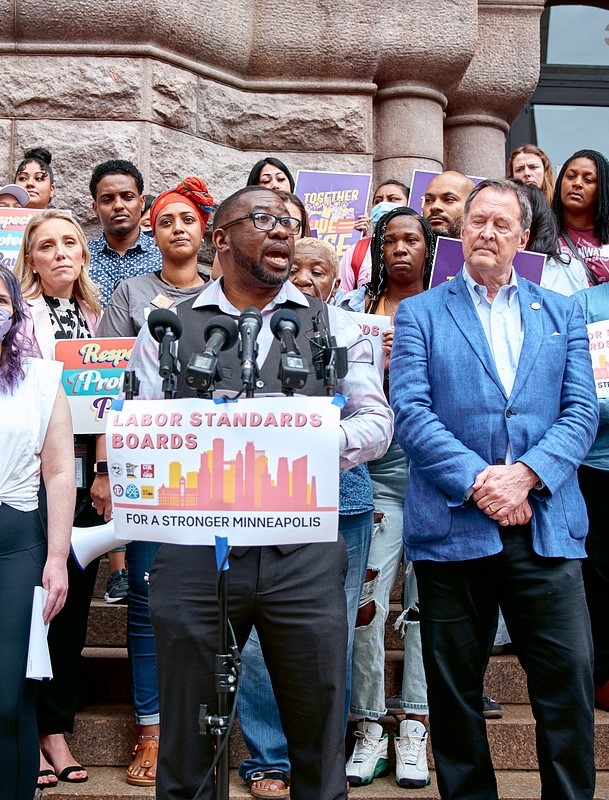 While this support for the labor board was the most obvious change to come out of this Week of Action, other impacts were less tangible but every bit as important. We fostered connection between people previously isolated from each other by differences in language, identity, workplace and industry. We created collective space for grieving and resilience amid the ongoing hardships of the COVID pandemic. Most importantly, we increased our shared understanding of the power structures that perpetuate inequity and sharpened our shared vision of a future characterized by co-governance and constituent leadership, a future where those inequities are a thing of the past.
This is what the Workers Confluence Fund and our allies mean when we invoke the slogan, "When we fight, we win." When we learn together, plan together, and demand change together we are fighting back against the systemic forces that keep marginalized workers struggling in shame, silence and isolation. When we build our knowledge and courage, when we connect deeply with each other across our differences, we begin to build the better world we are striving for – in other words, we win.